Challenge Budget: Car/parts $200
Donor Lincoln town car: 410
Engine crossmember: 120
Sold transmission crossmember from Lincoln: 10 Sold rear axle from lincoln: -50 Scrapped what was left of lincoln: -89
trans cooler: 2
Engine swap: 5.0 plus 300 boot
Sold kelstar wheels-200 (cant recoup more than we spent)
2x2 angle iron, tractor supply 12.05
Brand new Watkins glen nascar slicks and wheels, which were bought for $50, and promptly sold to Dallas dad for $50 and some weld wheels with really old drag slicks. So, slicks were $0, but $50 taken out of the recoup limit.
$5 grant wheel and hub (smaller diameter wheel gives more feedback. Well see if it stays.
BOOM TUBES!!!! ($25, with brackets)
6 5/8 heim and jamb nuts, as well as threaded tube for the front suspension: $65
Pair of aluminum seats, $40.
Sheet of flame retardant high density foam $10
Fire suppression system parts (not included in challenge budget. But ive had 2nd degree burns on the boys before, so were getting safety gear come hell or high water)
Long tube headers for 66-67 mustang 10
Solid steel lowering blocks, with the holes drilled to offset the rear axle rearwards. $5
1/4 plate, scrap metal yard: 7.50
Mustang convertible mounts 22
Bending plate cost 25
Swedged tubing, ebay: 31.90
Threaded adjusters and 650lb springs, SRI performance: 65
4 used billstein shocks, pull-a-part: 28
Cage materials: 271.40
Spool welding wire: 33
Leaf spring sliders: 40
Gauge cluster: 32 ebay

New challenge budget total: 1410.85

SHORT VERSION: Where we got to this time is all 8 points on the cage, most holes filled, rust repaired, and front suspension figured out. Also, insanely low ride height.
LONG VERSION:
Friday night, dallas and I got a late start. Between work, etc, it just didnt happen.
But our goal was to get the suspension mostly sorted out. On the rear, we decided that we are staying leaves for simplicity and cost. We looked at truck arms, 3 link, and all the other options. But leaves won out for out purpose. So, we picked up a set of leaf spring sliders that were briefly used on a street car, but were deemed too noisy. These serve to free up the rear suspension movement, make the rear susupension more consistent, replace the rotted and bent shackles, and lower it. We also finally put in the $5 lowering blocks from the autofair. Found that the car already had 1 inch blocks in it, and that the isoclamp system was fully intact. To eliminate the isoclamp is going to take some light fab work, and bring the back of the car up about 1/2 inch. We haven't done that yet. We also need to get new u-bolts, as the free used ones had one strip out on me. Dammit. I'm also debating rear shocks. The unknown blue ones on the back seem good enough at this point, and fit. The suburban bilstein shocks I have will require fab work. Well see what we think when it gets tested.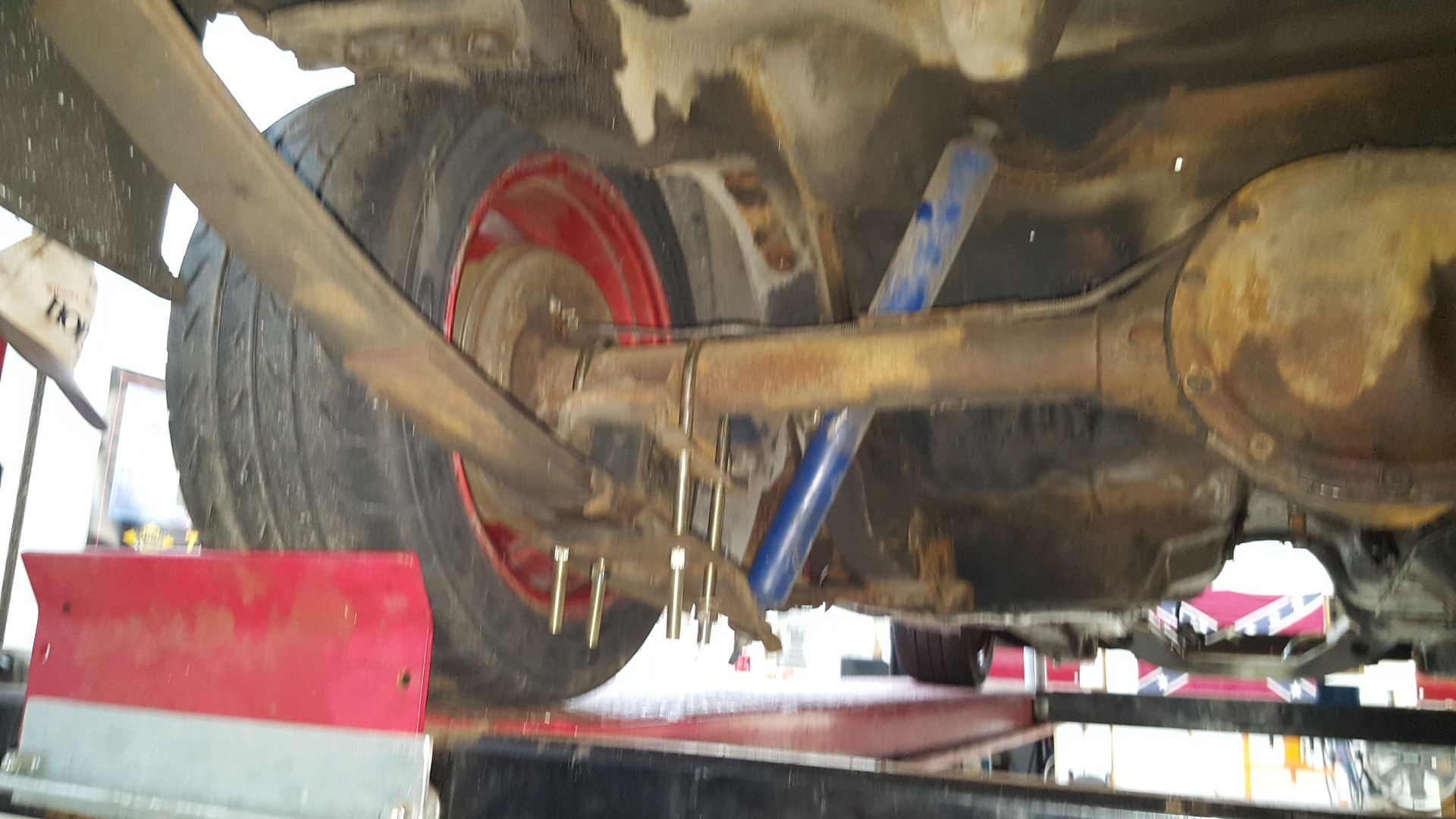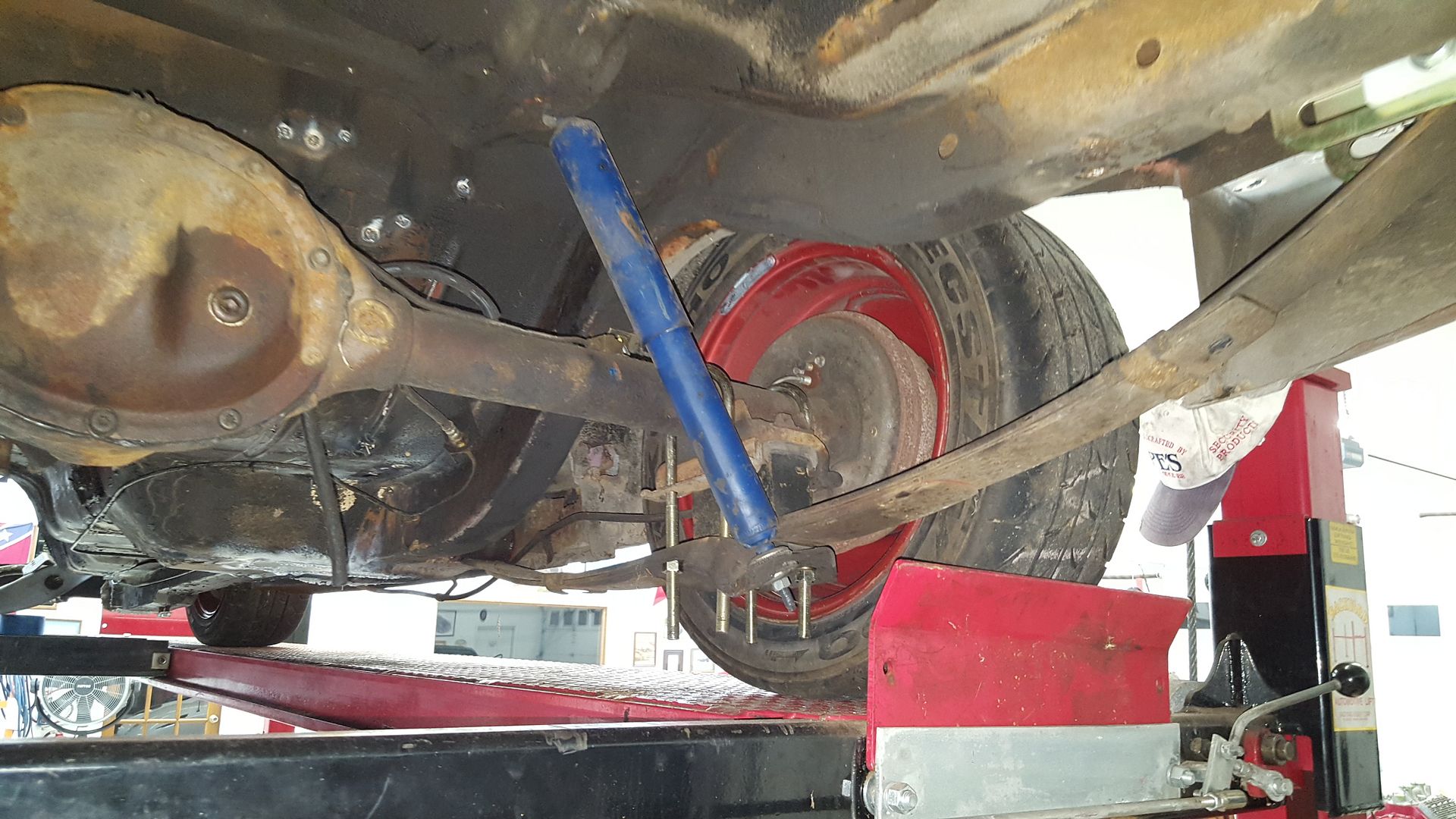 We then moved on to the front. Using the coils and adjusters, along with the 1/4 inch plate and 4x4 suburban bilstein shocks, we came up with a good solution. Should give us the ability to corner weight, readily available circle track springs (650in/lb to start), and a readily available shock design all while reducing weight. At least in theory. Still have some welding to do, and a few little parts to get, but rolling right along.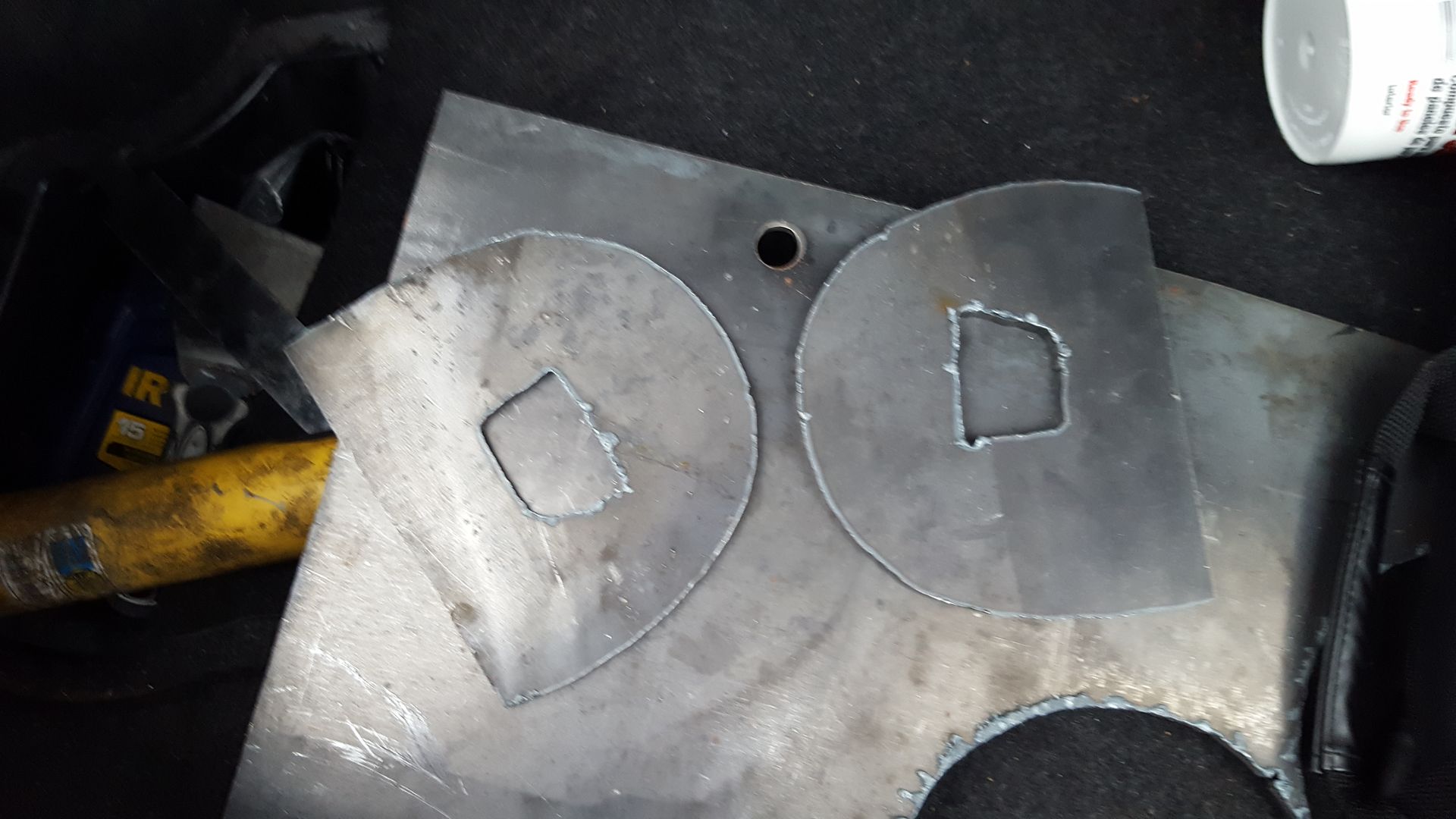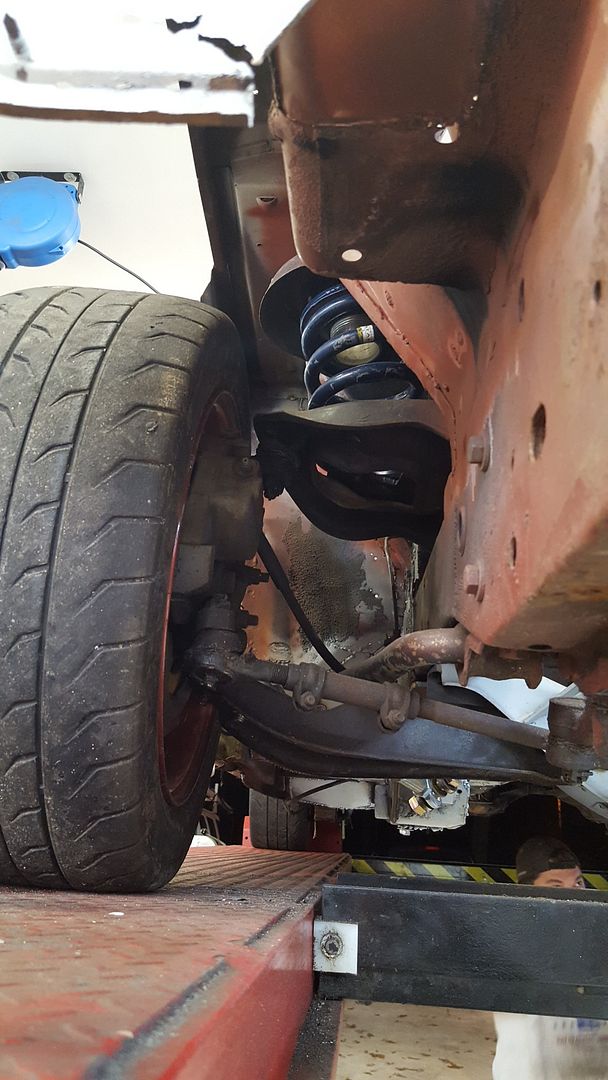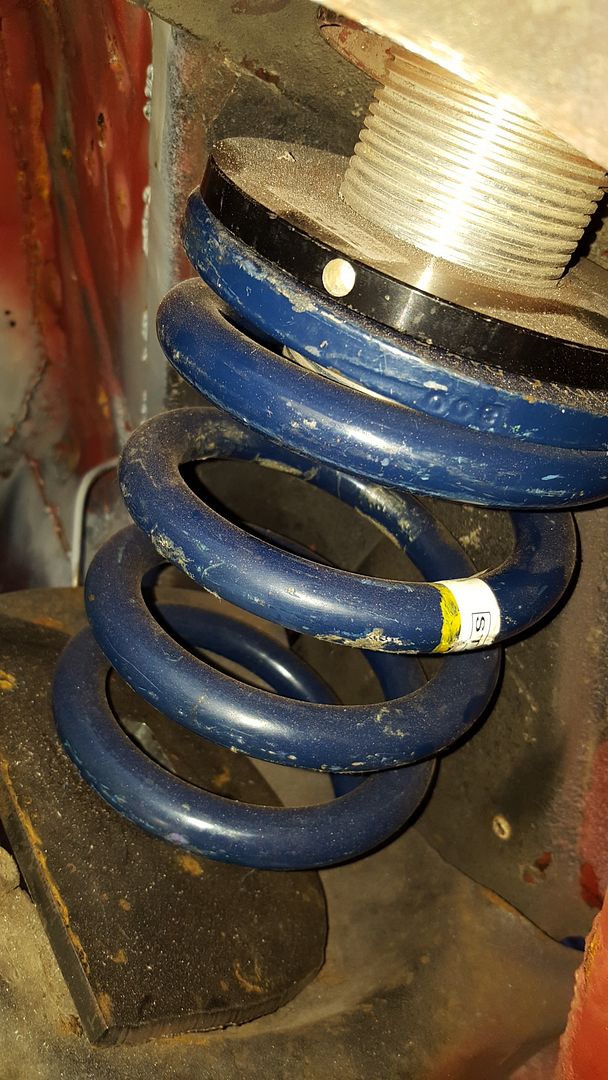 So, Saturday morning saw me and dallas back at it, making firewall hole plugs, welding up holes in the floorpan and sheetmetal, etc. Steve joined us after lunch, and got cracking on finishing the cage after swapping out the welder spool. We have officially used 10lbs of wire on this thing.
So, dallas got the water heater metal from behind the building, some CAD supplies, and went to work.


I started w